Control
The pump works with a tenseness of 220 volts. For the reason I don't have to plug- in and out to the connector, I made a little transformation on the power-supply unit because of this.
300 Watts Acorp are on my nutriment a monitor network flooring. Energy coming to this socket I broke it with the help of a relay. I tied up the cables in such a way that the flooring should receive current if the computer is switched on only.
The 12 Voltos I insured a relay with tying up two dioda. I protect the power-supply unit in the relay with this inducing because of potential tensenesses.
I cut it off for a distributor his bung and I put an end like that onto his place with what I may join onto the network flooring coming out from the power-supply unit.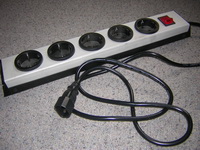 With this solution simultaneously even five apparatus autómatikusan under current may put with the computer's starting simultaneously. Apart from the pump a hi-fi I join with an amplifier, the power-supply unit of a scanner and a printer yet onto this distributor.
______________________________________
17.07.2007
I bought a new power-supply unit in 2007. Single FSP ZEN I selected an apparatus with passive refrigeration - apparently not accidentally.
From the old power supply unit mounted the switch relay and I put it into an own box. The above distributor now onto this the controller joins onto a unit. Indirectly from here receives the network tenseness as soon as the computer gets to starting.