Channel system
Clear deionised water orbits round and round in the system.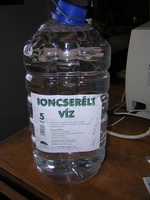 I used plastic hose and copper pipe for the transport of the cooler liquid.
I thought that I apply identical cross sectional elements in all of the system initially. I realised it however later, that the place the usage of pipes with a bigger inner diameter reduces the resistance of the driving medium practised for the flow of a liquid. Turning the water round in the system will be the easier thing of the pump.
At me this a negligible viewpoint, a drawn very long road is not needed because of that especially to go in for the coolant, is worth.