Pump
A Hydor Seltz L20 type pump provides the rounding of the cooling water.
Technical data
Name:
Hydor Seltz
Type:
L20
Max. water transport capacity:
700 litre/hour
Max. lifting power:
135 cm
Current uptake:
230-240 Volt - 50Hz
Performance:
14 Watt
Inner diameter of the hose fittings:
9,5 mm
Material:
Plastic
This little fountain pump for me perfectly suits. His performance I am being satisfied. I do not hear his sound so since I do not stay in an airspace with him. But otherwise something loud. Two 6 volts beside the sound of a working 80 ventilator imperceptible.
One single of the negative quality of the pump, that very fragile his inflowing stump, blue plastic ferrule fixing the rotor concerned. I managed to break two from him. It counterbalances all this however, that all of the additional elements of the pump (stumps, sole, fixing ring, rotor, etc.) can be reordered, on a very fair price.
I talked about this fragile component: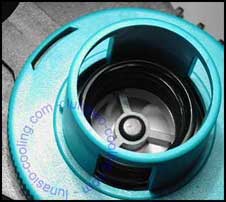 I supplied the injured component with a crutch finally. I put a stirrup ring on onto him with what I may have fixed the stump very certainly to the pump. The result is a really strong one made, better than his New Age.